DDGS is co-product of Ethanol manufacturing by dry processing of starch content of cereal grains (bajra, barley, corn, rice, sorghum, wheat, etc). The nutrient portions of the grains, other then starch(protein, fat, minerals and vitamins), are concentrated 2-4 times of the corresponding grains as ddgs, which from the composition is a high nutritious product, particularly for protein(amino acids), energy and phosphorus for livestock, poultry and aqua production.
Several factors influence the quality of DDGS. These are grain type and quality and processing condition(grinding, cooking, enzymes, fermentation, solubles added, drying temrature and duration, etc.).
The amino acids values may be taken into concideration in relation to protein, provided the ingredient has been processed by the standard methods of manufacturing process. The amino acids have to be digested to be useful for the animal. In the manufacturing process if the DDGS is overheated, amino group of amino acids or peptides particularly of lysine binds with the reducing sugars of starch and these linkages are not available for digestion in the intestinal track, but may be analyzed. The digestibility could be less in over heated DDGS.
The wet distillers grains after addition of solubles is heated for drying via machine. Over-heating darkens the color with burnt flavor and smell and lowers solubility of protein in potassium hydroxide(KOH) and pepsin.
Rice DDGS is the predominant one and available in more quantity in India than other types of DDGS like(Maize DDGS, Wheat DDGS, Corn DDGS, Bajra DDGS, Sorghum DDGS, Barley DDGS). Rice DDGS is good source of energy, protein and phosphorus. The protein is fairly good in amino acid content, but notably deficient in lysine.
DDGS as a protein rich diet is a good substitute for majority of protein rich diets like Soybean Meal, Ground Nut Meal, Mustard De Oiled Cake, etc.DDGS is a smart choice for livestock feed manufacturers and coming up as most desired livestock feed raw material in India and overseas market as well.
Quality Specification of Rice DDGS
| | |
| --- | --- |
| Protein | 44-45% |
| Moisture | 10% |
| Fiber | 5-6% |
| Sand Sillica | 2-3% |
| Fat | 1-2% |
| Energy | 3250 Kcal/Kg |
| Color | Yellow |
| Apperance | Powder / Granuler |
Quality Specification of Maize DDGS / Corn DDGS
| | |
| --- | --- |
| Protein | 28-32% |
| Moisture | 10% |
| Fiber | 5-6% |
| Sand Sillica | 2-3% |
| Fat | 1-2% |
| Energy | 3810 Kcal/Kg |
| Color | Yellow |
| Apperance | Powder / Granuler |
Packing
HDPE Bags / 1 MT Jumbo bags / Bulk in Container
Manufacturing Process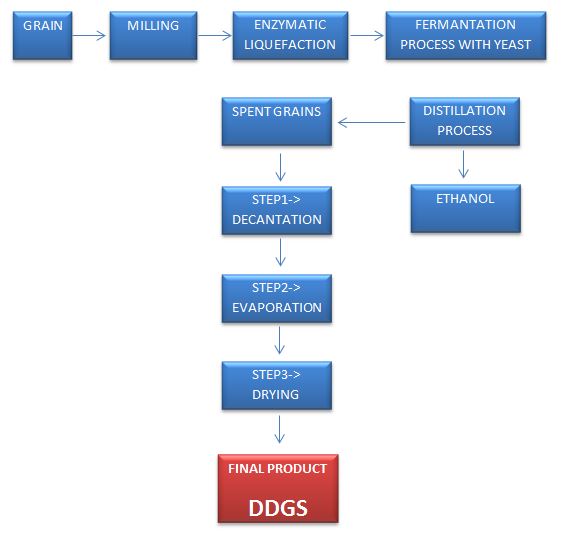 COMPARISON BETWEEN SOYA DOC AND RICE DDGS
| | | |
| --- | --- | --- |
|   | RICE DDGS | SOYA DOC |
| PROTEIN | 45% | 46% |
| MOISTURE | 10% | 12% |
| FIBER | 2% | 6% |
| SAND SILLICA | 1% | 2% |
| ENERGY | 3500 K/CAL | 2400 K/CAL |
| OIL | 4% | 1% |
| PRICE | LESS THEN SOYA DOC |   |